The Black Great Dane is a striking and majestic breed known for its large size and elegant appearance. As the name suggests, these dogs have a solid black coat, which adds to their imposing presence. Here's an overview of the Black Great Dane breed, Which has a long and fascinating history. Despite its name, the species did not originate in Denmark but is believed to have roots in ancient Egypt, with depictions of similar-looking dogs found on Egyptian artifacts dating back to 3000 B.C. These early dogs were likely used for hunting large game. 
Characteristics of Black Great Dane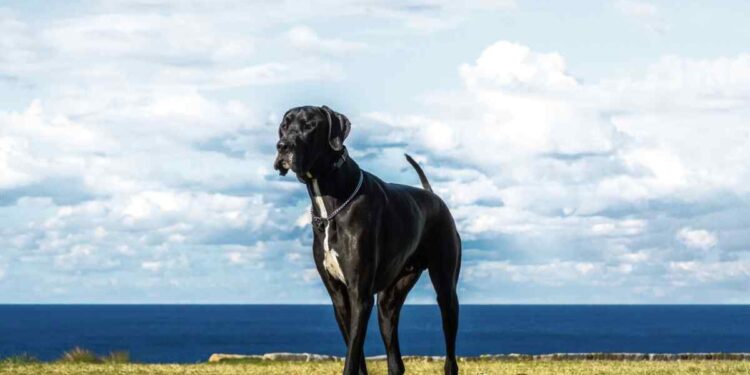 Color
Black Great Danes have a solid black coat color, which is one of the recognized colors in the breed standard. The black coloration is typically rich and deep, although some variations may exist.
Size
Great Danes, including black ones, are among the largest dog breeds in terms of height. They are known for their immense size, often reaching heights of 28 to 32 inches (71 to 81 cm) at the shoulder.
Muscular Build
Black Great Danes possess a sturdy and muscular build, exhibiting strength and power in their physique. Despite their large size, they should appear balanced and elegant.
Temperature
Great Danes, including black ones, are generally known for their friendly and gentle nature. They are often described as affectionate, patient, and good with children. However, individual temperament can vary, and early socialization 
Caring for a Black Great Dane
Exercise and activity 
Great Danes are a large breed, and although they have a calm demeanor, they still need regular exercise to stay healthy and prevent obesity. Daily walks and playtime in a secure, spacious area are essential. However, it's important to avoid overexertion and high-impact activities during their growth stages to protect their developing bones and joints.
Nutrition
Provide your black Great Dane with a balanced diet formulated for large-breed Dogs. Choose food that contains high levels of protein, fat, and nutrients. Avoid overfeeding to prevent weight gain which can strain their joints. Consult with a veterinarian to determine the best feeding schedule and portion sizes for your specific dog.
Grooming
Although black Great Danes have short hair, they still require regular grooming to maintain a healthy coat. Brush their coat weekly to remove loose hair and distribute natural oils. 
Proper training and socialization are crucial for Great Danes, as they are intelligent dogs with a sensitive nature.  Socialize your Great Dane with other dogs, animals, and different environments to ensure they become well-rounded and confident.
Health care
Regular veterinary check-ups are essential to monitor your black Great Dane's overall health and catch any potential issues early. Great Danes are prone to certain health conditions, including hip dysplasia, bloat, and heart problems, so it's important to stay vigilant and address any concerns promptly.
Environment
Great Danes are indoor dogs that thrive on human companionship. They should have access to a comfortable, spacious living area inside your home. Great Danes can be sensitive to extreme temperatures, so avoid leaving them outside for extended periods in very hot or cold weather.
Black Great Dane in Different Roles
Great Danes have a high sense of smell and can be easily trained. Their large size enables them to cover vast areas which makes them highly suitable for search and rescue operations in diverse locations. They are known for their friendly and gentle nature. Great Danes can also serve as effective guard dogs. Their mere presence can act as a deterrent enhancing their effectiveness in this role.
Black Great Dane puppies
Black Great Dane puppies are a popular choice among dog enthusiasts. Consider adopting a black Great Dane puppy from a rescue organization or shelter. Remember, acquiring a puppy requires careful consideration and commitment. Ensure you are ready for the responsibilities that come with raising a large breed like the Great Dane. Additionally, take the time to educate yourself about the breed's specific needs. 
Black Great Dane with Cropped ear
 A black Great Dane with cropped ears refers to a Great Dane dog of the black coat color with its ears surgically altered or cropped. Cropping involves removing a portion of the dog's ears and shaping them to stand erect.  However, it's worth mentioning that ear cropping is not specific to any particular coat color. eristice.
Black  Great Dane Price
 The prices of black Danes vary depending on some factors such as the breeder, individual dog's quality, and characteristics. Great Danes are generally considered a large and expensive breed, so a significant amount is required for a good breed of black Great Danes. However, it's important to note that prices can go even higher for show-quality dogs or those from champion bloodlines.
Conclusion
The Black Great Dane is a fascinating breed that combines elegance, strength, and gentle nature. Originating from the Great Dane breed, the Black variation has distinct characteristics and charm. With their impressive size, sleek black coats, and friendly temperament, Black Great Danes make excellent family pets and companions.
FAQs
How rare are black Great Danes?
Black Great Danes are rarer than other colors of this breed because they're not a genetically pure variety. Black is an "incomplete dominant" gene that gives Great Danes a blue-black coat. They're a hybrid of the brindle and harlequin varieties, but they may look completely different from one another.
What is the personality of a black Great Dane?
Great Danes are considered gentle giants. They are moderately playful, affectionate, and good with children. They will guard their home. Great Danes generally get along with other animals, particularly if raised with them, but some individuals in the breed can be aggressive with dogs they do not know. Great Danes are considered easy to train, but some Great Dane fanciers say that individuals can be stubborn learners.
 What is the lifespan black great dane?
Great Danes have a lifespan of approximately 8 to 10 years, although some may only live up to 6 or 7 years, while a fortunate few may reach the impressive age of 12. In comparison to smaller dog breeds, which can often live nearly twice as long, it may seem somewhat unfair.