Today, many pet owners are looking for natural and holistic alternatives to treat common health issues in their furry companions. Herbal remedies can offer effective relief for anxiety, digestive troubles, and skin irritations, among other common pet ailments. This blog post explores various herbal remedies to help improve your pet's well-being without relying on synthetic medications. Always remember to talk to your vet about the best treatment options before opting to handle your pet's treatment yourself and seek medical attention for your pet if problems become severe.
Anxiety and Allergies
Valerian root is well known for its calming effects on both humans and animals. This herb can be used to alleviate your pet's anxiety and stress, especially during thunderstorms, fireworks, or when introducing them to new environments. To use, simply crush the dried root and sprinkle it on your pet's food or mix it with a treat. You can also find valerian root extracts and capsules suitable for pets at health food stores or online. Moreover, some pet owners find that calming treats for dogs can also be helpful in reducing anxiety.
Nettle is an effective, natural antihistamine that can help alleviate your pet's seasonal or food-related allergies without the side effects associated with traditional allergy medications. Nettle contains quercetin, which has anti-inflammatory and antioxidative properties that help reduce allergic reactions and boost your pet's immune system. Offer your pet an alcohol-free nettle tincture, or sprinkle dried nettle leaves over their food to help keep allergies at bay. 
Digestion and Immune Support
Slippery Elm is a powerful herb known for its effectiveness in treating digestive issues in pets. It contains a substance called mucilage that turns into a gel when mixed with water, providing relief for irritated and inflamed mucous membranes. Slippery Elm is helpful for conditions such as upset stomach, diarrhea, constipation, and IBS. To administer, mix the powdered bark with water and offer it to your pet before they eat, or add it to their food.
Echinacea is a popular herbal remedy that helps boost the immune system and fight infections in pets. It has antiviral, antibacterial, and anti-inflammatory properties, making it useful for treating various health issues, including respiratory infections, urinary tract infections, and skin infections. To give your pet echinacea, use a glycerite or alcohol-free tincture, and add it to their food. Make sure to follow the recommended dosages for your pet's size and weight.
Skin Irritation and Infections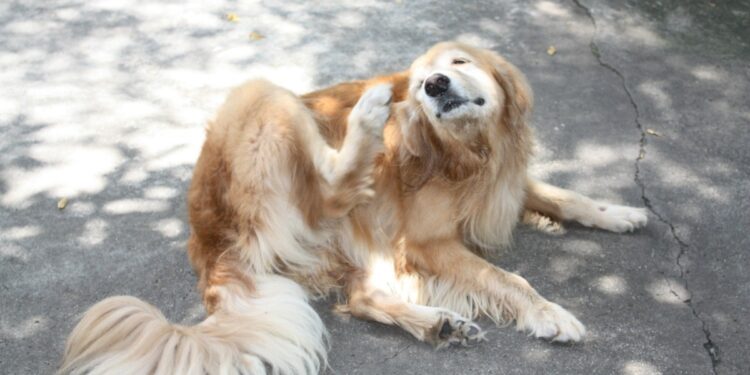 Both Calendula and Chamomile are gentle and effective remedies for treating skin irritations in pets. These herbs have anti-inflammatory, soothing, and wound-healing properties, making them perfect for topical use on hot spots, rashes, and insect bites. To make a healing salve for your pet, combine equal parts calendula and chamomile with a carrier oil, such as coconut or olive oil. Apply this mixture to the affected areas for relief. Calendula and chamomile can also be used in the form of teas or tinctures to cleanse and heal affected skin areas.
Goldenseal is a potent antifungal, antibacterial, and antimicrobial herb, making it ideal for treating infections and wounds in pets. Apply a goldenseal ointment or cream to cuts, scrapes, or infected skin areas to promote healing and prevent infection. Goldenseal can also be given orally in the form of a tincture or capsule to help combat internal infections such as yeast overgrowth or bacterial infections.
Kidney and Liver Support
Dandelion is an effective natural remedy to support kidney health and promote detoxification in pets. Rich in vitamins and minerals, dandelion helps to flush out toxins and maintain a healthy urinary tract. Dandelion leaves can be added to your pet's food or given as a tea, while dandelion root can be provided as a tincture or in capsule form.
Milk Thistle is a well-known herb used to support liver and kidney health in both humans and pets. It contains silymarin, a substance that helps to regenerate damaged liver cells, support detoxification processes, and reduce inflammation. Milk Thistle is particularly helpful for pets with liver disease, those on long-term medications, or pets exposed to environmental toxins. You can find milk thistle supplements specifically for pets in health food stores or online.
Urinary and Respiratory Health
Marshmallow root is a soothing herb that can help with urinary and respiratory issues in pets. Its high mucilage content helps soothe irritated tissue and reduce inflammation caused by conditions such as cystitis, bronchitis, and asthma. Marshmallow root can be given as a tincture, capsule, or in the form of tea to provide relief and support for your pet's urinary and respiratory systems.
Herbal remedies can offer a natural and holistic approach to managing your pet's ailments, from anxiety to skin irritations and beyond. Consulting with a holistic veterinarian can help you design a more specific and personalized treatment plan tailored to your pet's individual needs. By incorporating herbal remedies into your pet's care regimen, you can support their overall well-being and promote a healthy, happy life.
Read Also: Urinary Health