Are you tired of expensive and time-consuming trips to the pet groomer? Discover the rewarding world of dog grooming at home! Save time, build deeper bonds with your pet, and tailor the experience to your dog's unique needs. Dive into our comprehensive guide and get ready to embrace a new level of autonomy and convenience in pet care. It's simpler than you think. Read on to unveil the secrets of successful home dog grooming!
The Benefits of Home Dog Grooming
Discover the many benefits of home dog grooming, an activity that's more than just a cost-saving measure. With home grooming, you can:
Save Money

: Eliminate expensive trips to the professional groomer.

Enjoy Convenience

: Groom at your leisure, no appointments necessary.

Strengthen Bonds

: Deepen your relationship with your pet through nurturing interactions.

Provide Custom Care

: Cater to your pet's unique needs in a familiar environment.

Monitor Health

: Detect early signs of health issues through regular grooming.

Reduce Pet Anxiety

: Avoid stressful salon experiences with comforting home routines.
Essential Dog Grooming Tools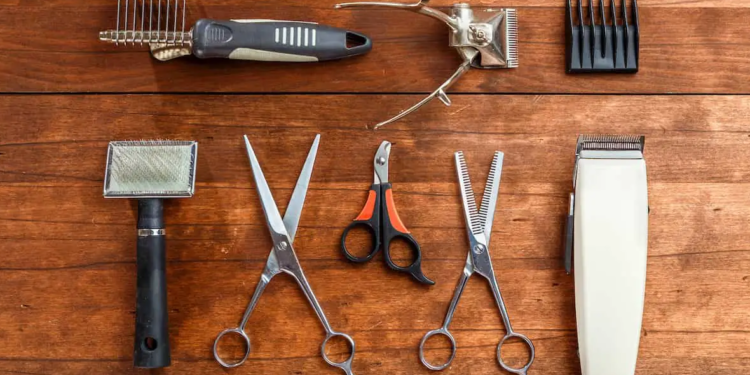 Embarking on the home dog grooming journey requires some essential tools. Ensure you're well-equipped with:
Brushes and Combs

: Varied types for different coats.

Nail Clippers or Grinders

: For regular paw care.

Dog-Friendly Shampoo and Conditioner

: Tailored to your dog's skin type.

Ear Cleaning Supplies

: To maintain ear hygiene.

Dog Toothbrush and Toothpaste

: For oral health.

Hair Clippers

: For trimming, especially for long-haired breeds. These tools ensure a comprehensive and effective grooming routine at home.
Read Also: crusty white dog
Understanding Your Dog's Coat Type
Understanding your dog's coat type is pivotal in effective grooming. Dogs can have smooth, short, double, or long coats, each requiring different care. Smooth and short coats need less frequent brushing while double coats benefit from regular de-shedding. Long-coated dogs may require daily grooming to avoid matting. Understanding your dog's coat ensures you employ the right tools and techniques for healthy, shiny, and comfortable fur.
Step-by-Step Guide to Basic Home Dog Grooming
Get started on your home dog grooming routine with this easy step-by-step guide:
Brushing

: Start by brushing your dog to remove loose fur and detangle matted hair. Use the appropriate brush for your dog's coat.

Bathing

: Bath your dog with a suitable dog-friendly shampoo. Rinse thoroughly to avoid skin irritation.

Drying

: Towel-dry your dog or use a pet-friendly dryer. Never use a human hairdryer as it can overheat.

Nail Trimming

: Trim nails carefully with a clipper or grinder, avoiding the quick.

Ear Cleaning

: Use a recommended ear cleaner, but never insert it deep into the ear canal.

Teeth Brushing

: Use dog-friendly toothpaste and brush to maintain oral hygiene.

Hair Trimming

: For long-haired breeds, use hair clippers to keep fur at a manageable length.
Grooming Schedule and Maintenance
A regular grooming schedule is vital for your dog's health. Daily brushing helps prevent matting and keeps the coat shiny. Bathing should generally be done every 4-6 weeks, depending on your dog's breed and activities. Nails should be trimmed monthly, but always check for overgrowth. Teeth brushing is recommended daily or at least thrice weekly. Regular ear checks and cleaning should also be part of your routine.
Conclusion
In conclusion, mastering dog grooming at home is an enriching, rewarding venture. It not only cuts costs but also strengthens your bond with your pet and ensures their comfort. Armed with the right tools and knowledge, you can make a tangible difference in your dog's life. Start your home grooming journey today!
Read Also: Panther Black Pitbull