The Micro Bully is a fascinating and adorable breed that has gained popularity among dog enthusiasts in recent years. This compact canine companion captures hearts with its unique characteristics and appealing appearance. In this article, we will delve into various aspects of the Micro Bully, including its size, color variations, availability, and price range. Whether you're a potential owner or simply curious about this delightful breed, join us as we uncover the charm and allure of the Micro Bully.
The Teacup Micro Bully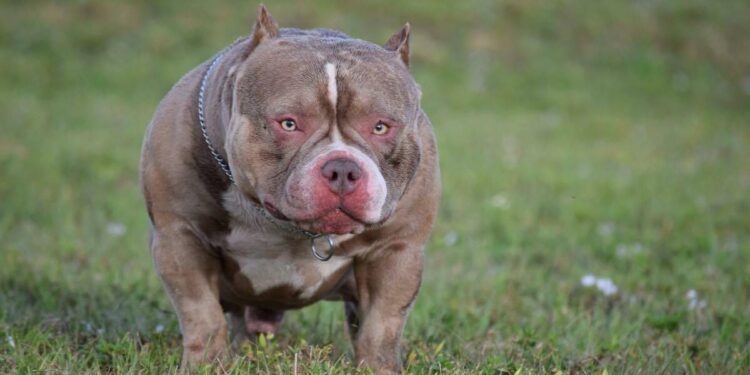 The Teacup Micro Bully is a term often used to describe the smallest members of the Micro Bully breed. These pint-sized pooches are incredibly tiny and are often the center of attention wherever they go. Despite their small size, they retain the characteristic traits and appearance of their larger counterparts. While the term "Teacup" may imply fragility, it's important to note that responsible breeders prioritize the health and well-being of these dogs to ensure they live happy and fulfilling lives.
Full-Grown Teacup Micro Bully
While the Teacup Micro Bully is undeniably small, it's essential to understand how big it will grow. On average, a full-grown Teacup Micro Bully can reach a height of 10 to 14 inches at the shoulder and weigh between 10 to 30 pounds. It's crucial to note that genetics, nutrition, and overall care play significant roles in determining the final size of these dogs. Potential owners should be prepared to provide appropriate care and attention to meet their specific needs.
Exploring Exotic Micro Bully
The Exotic Micro Bully is a striking variation within the Micro Bully breed. With unique coat patterns and eye-catching colors, these dogs often turn heads wherever they go. Exotic Micro Bullies possess the same endearing qualities as their counterparts, but their distinctive appearance sets them apart. Their striking appearance, coupled with their friendly and playful nature, makes them highly sought after by dog enthusiasts who are looking for a unique and charming pet to call their own.
Unveiling the Tri-Color Micro Bully
The Tri-Color Micro Bully is another captivating variation within the breed. These dogs boast three distinct colors, typically a combination of black, white, and brown, which create a beautiful and eye-catching coat. The symphony of colors makes them visually appealing and adds to their overall charm. These dogs possess the same wonderful temperament and characteristics as other Micro Bullies, making them a popular choice among those seeking a canine companion with a touch of uniqueness.
Finding a Micro Bully Puppy
If you're considering adding a Micro Bully puppy to your family, there are various avenues to explore. Reputable breeders who specialize in Micro Bullies can provide healthy and well-socialized puppies. Additionally, adoption centers and rescue organizations may occasionally have Micro Bully puppies available for adoption. Remember to conduct thorough research, visit the facilities or meet the breeders in person, and ask relevant questions to ensure the well-being of the puppy and the credibility of the source.
Micro Bully For Sale
Micro bully for sale is an increasingly popular trend in the pet industry. With the rise of social media, it has become easier for people to purchase and adopt these small, yet powerful dogs. From pocket-sized pups to large breeds, micro-bullies offer a unique set of characteristics that make them desirable for pet owners.
They require minimal grooming and are incredibly loyal and protective of their families. With the right training, micro bullies can make great companions for any household. If you're looking for a pup that's full of personality and energy, look no further than a micro bully!
Micro BullyPrice
Micro bully dogs are an expensive dog breed in the world. The average price of a micro bully dog is $7000 to $18000. It depends upon the micro bully dog characteristics.
Micro Bully Puppies for Sale
Are you looking for a small and loyal companion? Micro bully puppies could be the perfect fit for you! These tiny, yet powerful dogs are known for their loyalty and affection. They make great family pets and can bring joy into your life. With their compact size, they are also easy to take care of. Explore our selection of micro bully puppies for sale today and find the perfect pup for your home!
Exploring the Micro Bully Market
Micro Bullies can be found for sale through various channels, including online platforms and local breeders. The price range for Micro Bully puppies can vary significantly depending on factors such as lineage, pedigree, physical attributes, and overall demand.
While it's crucial to consider your budget, it's equally important to prioritize the health and welfare of the dog over the price. Remember to engage with reputable sources and never hesitate to ask for necessary documentation and health clearances before making a purchase.
 Micro Bully Availability in Specific Locations
For those seeking Micro Bullies in specific locations, such as Texas and California, there are numerous options available. Texas, known for its vibrant dog breeding community, offers a variety of breeders and kennels specializing in Micro Bullies. Online platforms, local classifieds, and social media groups can be valuable resources to find reputable breeders in Texas.
California, with its diverse dog-loving population, also has a thriving Micro Bully market. Researching local breeders, attending dog shows and events, and reaching out to breed-specific clubs can help you find reputable sources for Micro Bullies in California.
Conclusion
The Micro Bully breed has captured the hearts of many dog lovers, thanks to its compact size, appealing appearance, and lovable temperament. Whether you're interested in the Teacup Micro Bully, Exotic Micro Bully, or Tri-Color Micro Bully, thorough research, responsible sourcing, and providing a loving home are crucial elements in ensuring a happy and fulfilling life for these delightful canine companions.
FAQs
How Big Does A Micro Bully Get?
Micro bullies are typically smaller in size compared to standard bullies. They are bred to be compact and have a height ranging from 10 to 13 inches at the shoulder and a weight between 30 to 50 pounds.
What Is The Lifespan Of A Micro Bully?
The lifespan of a micro bully can vary depending on various factors such as genetics, diet, exercise, and overall care. On average, they can live between 10 to 12 years, but some individuals may live longer with proper care.
What Is The Height Of A Micro Bully Dog?
As mentioned earlier, the height of a micro bully typically ranges from 10 to 13 inches at the shoulder.
What Is The Weight Of A Micro Bully?
Micro bullies generally weigh between 30 to 50 pounds. However, it's important to note that weight can vary within this range depending on individual genetics and other factors.
How Much Is A Micro Bully Worth?
Micro bully dogs are an expensive dog breed in the world. The average price of a micro bully dog is $7000 to $18000. It depends upon the micro bully dog characteristics.
What Are The Health Problems With Micro Bullies?
Like any other breed, micro bullies can be prone to certain health issues. Some potential health problems include hip dysplasia, allergies, skin conditions, heart conditions, and breathing difficulties. It's important to choose a reputable breeder who prioritizes the health and genetic screening of their breeding dogs to minimize the risk of such health issues.
What Is The Difference Between A Micro Bully And A Pocket Bully?
Micro bully and pocket bully are terms used to describe smaller variations of the American Bully breed. The main difference lies in their size. Micro bullies are generally smaller than pocket bullies, with a shorter height and lighter weight. Pocket bullies, on the other hand, are slightly larger, with a height ranging from 13 to 17 inches at the shoulder and a heavier weight range of 50 to 70 pounds.
What Breeds Make A Micro-Bully?
Micro bullies are usually a smaller variation of the American Bully breed. The specific combination of breeds can vary, but they often have American Pit Bull Terrier, American Staffordshire Terrier, English Bulldog, and sometimes other bully breeds in their lineage.
Some mixed breeds