Some of our four-legged friends need a bit more TLC than others. For many dog lovers, grooming is not just a necessity but a bonding activity that is both rewarding and essential to the pet's well-being. While all dogs deserve love and care, a few require an extra dose of pampering to keep them looking and feeling their best. From luxurious baths to frequent haircuts, here's a look at the top 10 dog breeds that demand the most intense grooming and upkeep.
Bichon Frise
With its white, fluffy coat, the Bichon Frise is a picture of poise and elegance. This breed's hair grows continuously, requiring regular grooming to prevent mats and tangles. Bichons should be professionally groomed every 4-6 weeks to maintain that plush, cotton-ball look. Daily brushing is a must to keep their coat free from debris and knots at home, ensuring your cuddly companion is always ready for a close-up.
Despite their high-maintenance fur, Bichon Frises are often preferred by allergy sufferers. Their hair is less likely to shed and carry dander, which is a common allergen, but this hypoallergenic feature comes with the trade-off of rigorous grooming demands.
Cocker Spaniel
Cocker Spaniels are known for their silky coats and beautiful feathering on the ears, chest, belly, and legs. This signature look requires consistent grooming to avoid mats, especially in the feathered areas. Professional grooming should be done every six to eight weeks, with particular attention to their ears to prevent infections that can arise from moisture trapped in the ear canal.
Daily brushing at home is beneficial for the Cocker Spaniel to remove loose fur and prevent tangles. Regular ear cleaning and nail trimming are also vital.
Poodle
Poodles of all sizes, from Standard to Miniature to Toy, are the epitome of a high-grooming breed. Their curly coats are prone to mats and require regular professional grooming every three to six weeks. The good news is that Poodles are incredibly versatile in hairstyles; from the practical "puppy clip" to the elaborate "continental clip," there's a style for every personality.
Daily brushing helps to prevent mats and keeps their coat in top condition. Additionally, poodles need regular ear cleaning to avoid wax build-up and infections due to their non-shedding coat.
Afghan Hound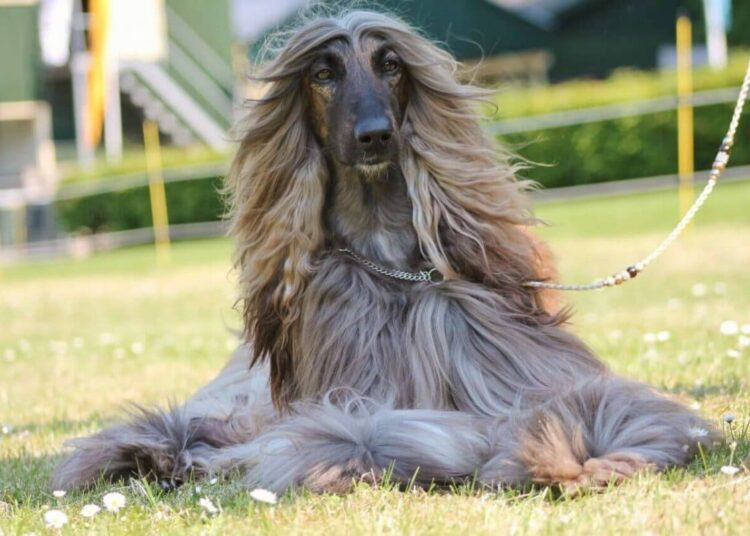 The Afghan Hound's long, flowing locks aren't just for show – they require serious maintenance. This regal breed's coat must be washed and brushed several times a week to keep it free from mats and maintain its natural sheen. Professional grooming every two to three months is also necessary to manage this breed's distinctive coat.
The effort to maintain an Afghan Hound's coat is considerable, but for many owners, the breed's elegant appearance and unique personality make the intensive grooming routine a labor of love.
Yorkshire Terrier
Yorkshire Terriers may be small, but their grooming needs are anything but. Their fine, silky hair is similar to human hair and grows continuously. To prevent matting and tangling, daily brushing and combing are required. Many owners keep their Yorkie's hair trimmed to a manageable length, necessitating regular grooming appointments every four to six weeks.
While they may not have an undercoat, which reduces shedding, Yorkies still need baths every few weeks to keep their skin and coat healthy, making them one of the more high-maintenance breeds in terms of grooming.
Komondor
The Komondor is easily recognized by its unique corded coat, which resembles dreadlocks. This feature isn't just for show; it actually helps protect the dog from extreme weather and predators. However, maintaining this coat is time-consuming. The cords must be regularly separated to prevent matting and to keep the skin underneath healthy.
Bathing a Komondor is a lengthy process as their coat takes a long time to dry and, if not dried properly, can become mildewed. This grooming is so intensive it's often left to professionals.
Chow Chow
Chow Chows possess a thick double coat that requires significant upkeep. They shed their undercoat seasonally, meaning they must be brushed several times a week to remove loose fur and prevent overheating. Daily grooming is often necessary during shedding season to keep up with the massive amount of hair they lose.
Regular grooming sessions not only help maintain their distinctive lion-like mane but also allow them to check for skin issues, which can be expected in this breed due to their dense fur.
Old English Sheepdog
The Old English Sheepdog is another breed that sports a beautiful double coat, which requires extensive grooming to keep it mat-free. Their long, shaggy hair can easily trap dirt and debris, so regular thorough brushing is crucial. Professional grooming is recommended every six to eight weeks to keep their coat trimmed and tidy.
Owners must be diligent about grooming around the dog's hindquarters and feet to prevent hygiene issues. Despite the heavy investment in grooming time, many owners find the Old English Sheepdog's playful nature and affectionate disposition worth the effort.
Samoyed
Samoyeds are known for their stunning, dense white coats that demand regular grooming. Their thick, fluffy fur can mat easily, particularly around the collar and behind the ears. Weekly brushing sessions are necessary to maintain their coat, with more frequent grooming required during their shedding seasons.
The bright color of their fur also means that Samoyeds can get visibly dirty quite quickly, so they require regular baths – but be sure to dry them thoroughly to prevent any colds or skin issues.
Shih Tzu
The Shih Tzu, with its flowing locks and sweet, expressive face, can be the apple of any dog lover's eye. But their beautiful hair grows continuously and requires daily brushing to avoid tangles and mats. Most owners keep their Shih Tzu's hair cut short in a "puppy cut" to simplify grooming, but they still require professional grooming every four to six weeks.
Regular bathing, ear cleaning, and nail trimming are also part of the Shih Tzu's grooming routine. Keeping their hair out of their eyes is essential for comfort and to prevent irritation, so you often see these dogs sporting adorable topknots.
Conclusion
The dog grooming world is filled with various breeds that require special attention. These pampered pooches, with their unique grooming needs, offer an opportunity for owners to bond with their pets in a very hands-on way. Whether visiting a professional groomer like the Petbar Boutique or tackling the task at home, the key is regular maintenance and care. No matter the breed, every dog deserves to look and feel their best.