The short haired Border Collie is a charming and intelligent herding dog breed that stands out for its striking appearance and remarkable abilities. These dogs possess medium-sized bodies covered in silky and dense coats. These are in various colors black and white, red and white, or tricolor patterns. These dogs are great friends and family pets. These are known for their loyalty, nature, and strong bonds with their owners.
The Short Haired Border Collie Breed
The short-haired Border Collie is a variety of the  Border Collie breed known for its smooth and sleek coat. The short-haired variety has a dense double coat that lies close to the body. This breed is highly trainable and excels in dog sports such as obedience, agility, and herding trials. Despite their high energy levels, Short Haired Border Collie can adapt well to different living environments as long as they receive sufficient mental and physical exercise. They have a strong instinct to herd and may attempt to herd people, animals, or moving objects.
Training and Exercise  for Short Haired Border Collie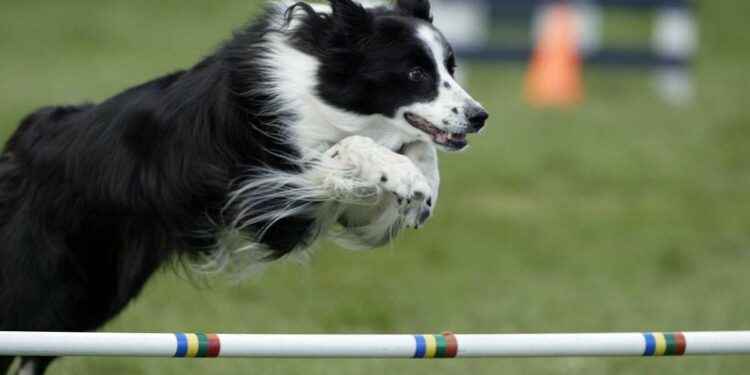 Importance of Mental and physical stimulation
Mental and physical stimulation is crucial for the well-being of a short-haired Border Collie. Short Haired Border Collie are intelligent dogs that require mental challenges to keep their minds sharp.  Physical stimulation activities with exercise help prevent behavioral problems such as excessive barking or digging.
Training Tips and Techniques for a well-behaved dog 
Begin training your short-haired Border Collie as you bring them home, ideally when they are still a puppy. Be consistent in your training approach, using the same commands and signals to avoid confusion. Establish rules and boundaries for your dog, such as where they are allowed to go and what behaviors are acceptable. Gradually introduce distractions during training sessions to help your dog stay focused and obey commands even in distracting environments.
Engaging activities and games to keep Border Collies active
Swimming
If  Border Collie enjoys water, take them to a safe swimming spot and let them cool off and have fun in the water.
Hide and Seek
Hide treats or toys around the house or yard, and let  Border Collies use their natural herding instincts to find them.
Hiking
 Take  Border  Collie on a hike in nature. They'll enjoy the sights, sounds, and smells while doing physical exercise.
Toss and Catch
 Teach  Border Collie to catch treats or toys in the air. Start with easy tosses and gradually increase the difficulty.
Health and Care for Short Haired Border Collie
Common health issues and preventions
Hip dysplasia
Preventive measures include maintaining a healthy weight, regular exercise on soft surfaces, and avoiding excessive jumping or rough play during growth stages.
Progressive retinal atrophy (PRA)
 Regular eye examinations can help detect PRA early, allowing for appropriate management and treatment options.
Allergies
Avoiding known allergens, such as certain foods or environmental triggers, and providing a balanced diet can help minimize allergic reactions.
Arthritis
 Regular exercise, maintaining a healthy weight, and providing joint supplements or medications by a veterinarian can help manage arthritis.
Regular check-ups and Vaccinations
Annual check-ups are vital to monitor the overall health of Short Haired Border Collie. Regular vaccinations protect  Border Collies against common and potentially life-threatening diseases.
Vaccinations safeguard against diseases like rabies, distemper, parvovirus, and kennel cough.
Nutritional needs and recommended diet for optimal health 
Short Haired Border Collie require a balanced diet that meets their energy needs to support their active lifestyle. In muscle development, High-quality protein is essential.  Foods containing artificial preservatives and high calories can lead to weight gain and health problems.  
Socialization and Interaction of Short Haired Border Collie
Gradually increase the difficulty during socialization sessions to challenge your short haired Border Collie and build their confidence. Consider participating in dog sports or activities, such as agility or obedience trials, which provide structured socialization opportunities for your dog. Provide dogs with plenty of exercise and mental stimulation to prevent behavioral issues in their socialization progress.
Short Haired Border Collie Puppies
Short haired Border Collie puppies are known for their adorable and energetic nature. With beautiful markings and expressive eyes,  hearts wherever they go. Short-haired Border Collie puppies love the challenge and enjoy learning new tricks and commands. With their boundless energy, intelligence, and affectionate nature, short haired Border Collie puppies are a joy to be around. Short-haired Border Collie puppies thrive in environments where they have a job to do or participate in dog sports.
Short Haired Border Collie as a Family Pet
A short-haired Border Collie makes an excellent family pet due to its intelligence and loyalty. 
Border collies have high energy levels and are moderate in size, making them suitable for families living in their houses. Regular exercise for border collies motivates the family to stay active and have a healthy lifestyle.
Advantages of Owning a Short Haired Border Collie
Low grooming requirements
One of the keys is the minimal grooming they require. Their short coats are easy to maintain, reducing the need for regular brushing and preventing matting or tangling of fur.
Less shedding
Compared to their long haired counterparts, Short Haired Border Collie tend to shed less. It means less time spent vacuuming and cleaning up fur around the house.
Reduced allergens in the home 
Since Short Haired Border Collie are shedless and have shorter fur, there are generally fewer allergens present in a home environment. It can be beneficial for individuals with allergies or asthma.
Easy coat maintenance
With shorter hair, it is easy to spot any skin issues or parasites that may affect your dog's well-being. Regular inspections and early detection of potential problems are with short-haired breeds.
Reduced risk of overheating 
Outdoor activities in hot weather are the best choice because a shorter coat helps them to stay cool in warmer climates.  They are less prone to heat exhaustion. 
Conclusion
Their puppies exhibit high levels of energy and intelligence from an early age, requiring proper socialization and training. Optimal nutrition, regular check-ups, and vaccinations are essential for their health. Ensuring mental fitness through enrichment activities contributes to their well-being. Engaging activities and consistent training techniques help keep them mentally and physically stimulated. 
FAQs
Are Short Haired Border Collie good with children and other pets? 
Short Haired Border Collie are generally good with children and other pets when properly socialized and trained. However, as with any dog, they are super, especially when introducing them to younger children.  
How long do Short Haired Border Collie typically live?
Short Haired Border Collie have a lifespan of about 12 to 15 years. Proper care, a healthy diet, regular exercise, routine vet check-ups, and a loving and stimulating environment contribute to their overall well-being and longevity.
How do Short Haired Border Collie fare in different climates?
Short Haired Border Collie can adapt well to different climates. Their double coat provides insulation, which helps them stay comfortable in cold and warm weather. However, during extreme temperatures, take precautions to ensure they have excessive heat or cold for prolonged periods.
Are Border Collies loyal?
They are affectionate, loving, and loyal creatures, sometimes to a fault. They are working dogs and look to their owners for directions.