Soybean meal for horses is a popular feed. Thanks to its high protein and essential amino acid content, it is particularly appreciated by horse owners whose animals need to perform well. This can apply, for example, to horses that have to ride for a long time, serve as draft horses or compete in competitive sports.
What Is A Soybean Meal?
Soybean meal is actually a by-product left over after the extraction of soybean oil. The whole soybean is crushed and processed until finally all the oil has been extracted. Soy meal remains as the remaining mass. Although this now contains less oil or fat, it is rich in proteins and amino acids. As a rule, the meal receives a heat treatment after its production and is then ready for feeding.
Like most legumes, soybeans should not be eaten raw. They contain toxic toxins that can only be eliminated by heating.
Which Horses Benefit From Soybean Meal?
Soy is very rich in protein and is therefore particularly suitable for horses that have to work hard. In addition, the legume is also often fed to old – and often too thin – horses. The following target groups can particularly benefit from soybean meal:
show horses
racehorses
draft horses
all horses from the competitive sport
breeding horses
underweight horses
old horses
pregnant mares with increased protein requirements
Proteins fulfill essential tasks in the horse's metabolism. For example, they are necessary for strong muscles, shiny coats, and sturdy hooves. The essential amino acids contained in proteins are also necessary for smooth protein metabolism. They help break down and assemble proteins.
By the way, if your horse has a protein deficiency, it makes no sense to add any proteins to the feed. They are not equally digestible in every form. Protein synthesis requires very specific amino acids – for example, lysine. If these are not available, efficient protein metabolism cannot take place and the deficiency persists, although enough proteins are actually supplied through food.
Fortunately, soybean meal offers ideal conditions for a horse to metabolize it. The proteins and amino acids contained are in an easily digestible form and not too scarce. One kilo of soybean meal contains around 180 g of essential amino acids. Your horse should therefore be able to quickly and easily absorb the nutrients it contains when consuming soybean meal.
Read More: Mineral feed for horses
How Much Soybean Meal To Feed Horses?
Soybean meal usually contains around 40% crude protein, sometimes a little more. How much meal you should actually mix with the normal food depends largely on how blatant the deficiency situation is. Usually, 100 to 150 g per day is recommended for a 600 kg horse.
Soybean Meal For Horses – Genetic Engineering In The Feed?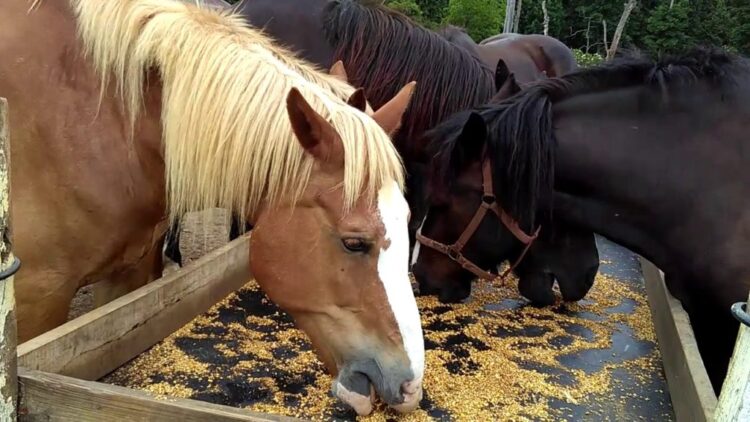 Soy is a plant that is often sold in a genetically modified form. Especially when the legume does not originate in Europe, it has often been genetically modified. The soy requirement for horse feed cannot usually be covered with local cultivation.
Therefore, it is imported – mainly from North and South America. Soy, which is used in conventional horse feed, is usually genetically modified. Since there is an obligation in the EU to also indicate this, you can find corresponding information on the packaging of your product. The soybean meal sold in this country also usually comes from genetically modified plants.
In principle, it is up to the horse owner how he or she stands on the subject of genetic engineering in soybean meal for horses. Some people have no problem with genetically modified plants and others do. So be aware that when you buy products on the conventional market, you are usually feeding them genetically modified soy.
Special dealers also offer non-GMO horse feed with soy. So think about how you feel about the topic and do some research if necessary. Your vet can also advise on this.
Read Suggestion: The Black Panther Pitbull: Powerful and Loyal Dog
FAQs
Is Soybean Meal Healthy For A Horse?
Soybean meal is not equally relevant for all horses. Healthy, strong, and fit animals usually meet their protein and amino acid requirements elsewhere and are not dependent on soy. Horses that have to work very hard or are very thin can benefit from soybean meal. Above all, muscle building can be supported by this.
How Is Soybean Meal Made?
For the production of soybean oil, soybeans are crushed and processed until the fat has been extracted. What is left is the rich soybean meal, which is usually still heated.
Is Soy Meal A Waste Product?
Originally, soybean meal was indeed a waste product. It is left over after extracting soybean oil from the soybean but still contains plenty of nutrients. It is therefore far too valuable to throw away.
What Should An Overly Skinny Horse Eat?
If your horse is too thin, it is very important to supply healthy proteins. Hay, especially late-cut hay, does not always contain enough protein to meet daily needs. Soy meals for a horse, or products made from soy, can make a helpful contribution to a healthy diet. They provide large amounts of protein. However, make sure not to provide too many soybean meals for a horse, but to create varied menus.