Therefore, in this Pets Colony article, we will see which are the best dog breeds for children and which are the most suitable depending on the degree of hyperactivity of the child, if you need a babysitter dog or if there are a lot of children in the family.
Children love dogs and almost all dogs love children. However, there are some dog breeds that certainly get along better with children than others.
Dogs For Hyperactive Children
Hyperactive children need to vent their energy and have a playmate. Without a doubt, the best breeds for these children are the Labrador and the Beagle.
Labrador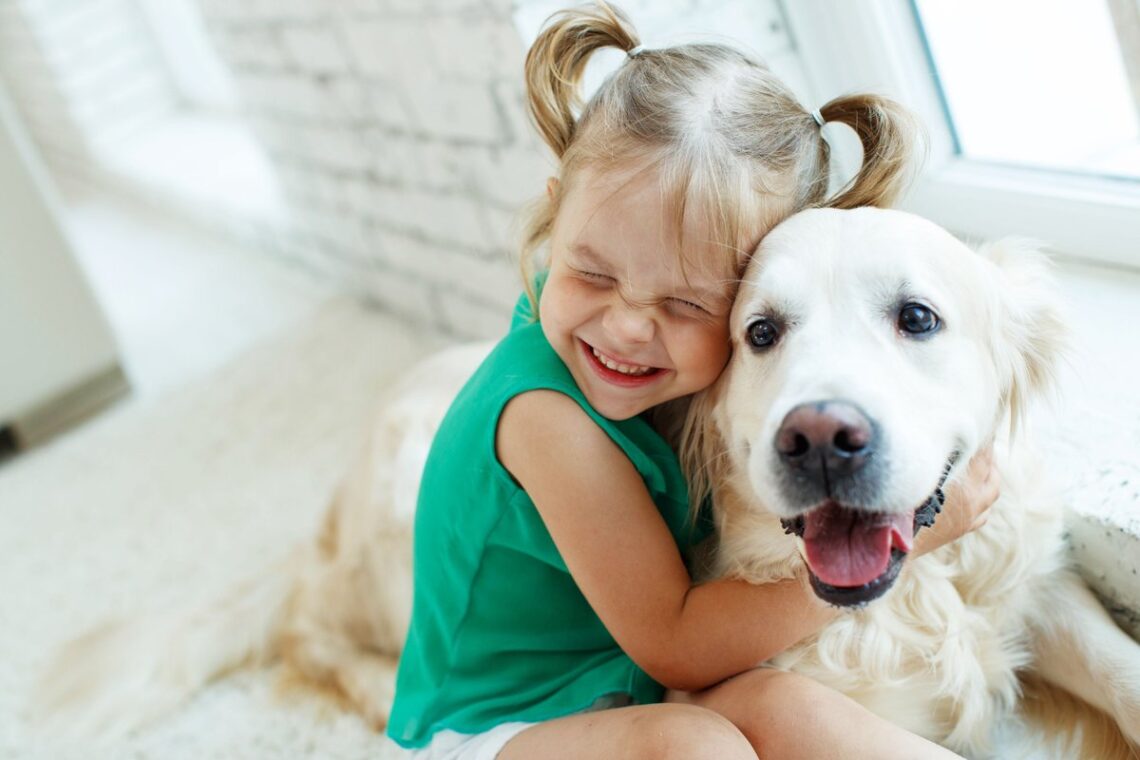 The Labrador has a lot of energy, is active, loves to play, and is very affectionate with children. He is also not aggressive at all and his patience and kindness are well known. He loves being with the family, he will immediately make friends with the little ones and will give them lots of affection. However, they need a lot of space in which to play and run around because they are animals that need long walks and runs.
Beagle
The Beagle is a perfect breed for a smaller home because they have the same temperament as the Labrador but are smaller in size. Beagles are playful and hyperactive and their energy will even exceed that of a child. While they are very active, they are easy dogs to train and become very peaceful if they've had a fair amount of activity. He is a perfect dog for the little ones in the house because he will let them let off steam but will also be able to make them stop and rest.
Babysitting Dogs
If you want a dog that is not too active and is able to keep children in check, you need a guard dog. Of all the possible options, the Boxer and Collie are considered the best dogs for guarding children.
Boxer
The Boxer is a naughty breed that adores children and could play with them endlessly. This aspect is very important when choosing a dog and there is a child in the house, however, the quality that stands out about the Boxer is the instinct to protect and guard, as it does not let anyone approach if it is not someone known. He defends the family and can become aggressive if he realizes that the family is in danger.
Collie
The Collie is a very large dog who loves being with the family. He has a highly developed protective instinct which makes him an excellent watchdog. If you have a large house or large spaces in which to walk him, he will be the perfect dog for your child because he will do everything to protect him from any danger. In fact, it is not recommended to let strangers get too close because Collie does not like this behavior.
Dogs For Small Children
If you are looking for a dog suitable for living with a newborn baby, there are other characteristics to look for in the animal. You will have to choose a breed that is quiet, peaceful, very affectionate, and with a lot of patience because the children will be very spiteful to them.
Saint Bernard
Saint Bernard, even though he looks very large and impetuous, is one of the quietest, best, and most peaceful dogs. They are docile and protective dogs, easy to train and that will babysit the little one because of their affability they are increasingly popular as companion dogs.
German Shepherd
The German Shepherd is one of the most versatile dog breeds there is. They adapt to all kinds of situations, make excellent companions and work animals, and are also obedient, easy to train, and have a great protective instinct. They love small children and given the ease with which they can be trained, it won't be difficult to teach them how to behave properly around little ones.
Read Also: Maltipoo Black And White