If you own a pet, then you know that finding the right gear for your dog is crucial. That includes finding the perfect dog playpen. 
It's an item that comes in many different materials. One of these is acrylic, a material gaining popularity for its unique qualities.
But what makes acrylic dog playpens stand out? And how do they fare when compared to other types of playpens? 
In this guide, we're going to break it down for you. We'll shed light on the pros and cons of acrylic playpens. 
We'll also help you understand how they stack up against other types. This will help you make an informed decision for your four-legged friend.
What Makes a Good Dog Playpen?
Regarding dog playpens, it's not about picking the fanciest or the most expensive one. Instead, it's about understanding your dog's specific needs and finding a playpen that meets those needs perfectly.
Size and Space Considerations
The size and space are crucial factors when picking the right dog playpen. But what does that mean, exactly? Simply put, your playpen needs to be large enough for your pets to move around freely. 
Just like us, dogs need room to stretch their legs and play. Think about it: no one likes to be cooped up in a small dog playpen, right? Your dog is no different.
Yet, the size of your dog isn't the only factor. You also need to consider the space where you'll place the playpen. 
Make sure it fits comfortably without obstructing your living area. If you plan to use it outside, ensure it's a safe and secure spot. 
The goal is to give your dog a dedicated, comfortable space. Whether indoors or outdoors, our furry friends should be playing without restrictions.
Material and Durability
Dogs are curious and active creatures. They love to explore their surroundings, often using their teeth and claws. 
Therefore, choosing a playpen that can withstand your pet's activity level is crucial. Materials commonly used for dog playpens include metal, fabric, plastic, and of course, acrylic. 
Metal is strong and sturdy but can rust if not properly cared for. Fabric is lightweight and portable but might not hold up against a determined chewer. 
Plastic is easy to clean and usually cheaper but it may break under pressure. And then there's acrylic, which is durable, clear, and provides good visibility.
Portability and Ease of Assembly
If you're often on the move or want to change the playpen's location. In that case, a portable dog playpen might be what you need. 
Look for a foldable dog playpen that is lightweight and easy to fold up, such as an adjustable dog playpen. This feature will make it easier to move the pen from one place to another or even take it on road trips with your furry friend.
Equally important is the ease of assembly. You don't want to spend hours setting up your dog's playpen, right? 
So, opt for a dog playpen with clear instructions and simple assembly. Some playpens even come with a 'pop-up' feature, allowing quick and hassle-free setup.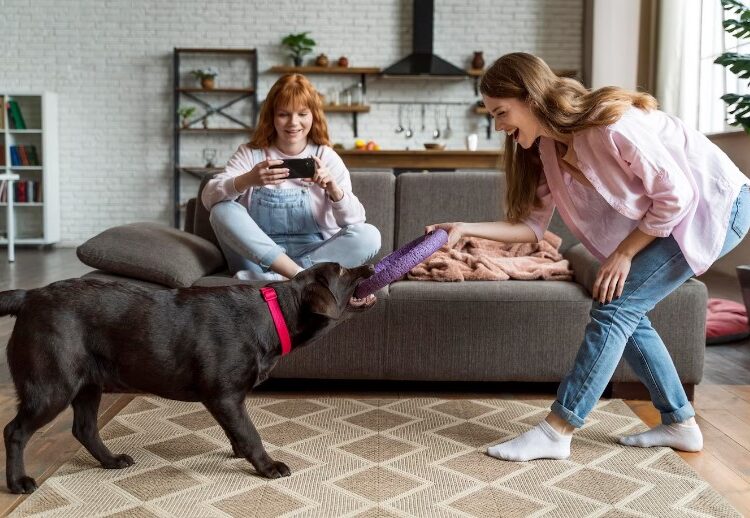 Acrylic Dog Playpens: Why They Stand Out
Just when you thought you'd seen it all, in walks the acrylic dog playpen. It's not your everyday playpen, and that's why it's garnering attention. So, what's the deal with acrylic playpens?
What is an Acrylic Material
First things first, what exactly is acrylic? In simplest terms, it's a type of plastic — but not your average plastic. 
Acrylic is transparent, durable, and lightweight. These properties have made it a popular choice in various applications, from aquariums to furniture and, yes, even dog playpens.
Advantages of Acrylic Dog Playpens
Clear acrylic dog playpens like the ones from https://shophiddin.com/collections/playpens are making a name for themselves, and it's not hard to see why. To start, their transparency offers clear visibility, allowing you to keep a watchful eye on your pet. It also lets your dog see you, which can be a comfort to them.
Being robust and durable, acrylic can withstand the playful antics of your dog without a hitch. It's also resistant to the weather. This means it can serve as an outdoor playpen without any worries about it degrading. 
Not only that, but it's easy to clean too. This is always a bonus when you have a pet. Just a simple wipe, and voila, it's good as new.
Potential Drawbacks of Acrylic Playpens for Dogs
As with everything, acrylic playpens also have a few potential drawbacks. For one, they can be pricier compared to playpens made from other materials. Although they're strong, a determined chewer could potentially scratch the surface. 
And while they are lighter than metal playpens, they're heavier than fabric or plastic ones. This might make moving them a bit more challenging.
How to Maintain and Clean an Acrylic Playpen
So, how to keep an acrylic playpen clean? It's surprisingly easy, really. For daily cleaning, a simple wipe-down with a damp cloth will do. 
For a deeper clean, use a mild detergent or specially formulated acrylic cleaner. It's best to avoid harsh chemicals or abrasive sponges. 
Why? Because they could damage or scratch the surface. Regular cleaning keeps the playpen looking great and ensures a healthier space for your pup.
Comparing Different Types of Dog Playpens
Dog playpens come in various materials, each with its own advantages and potential drawbacks. To make an informed choice, it helps to do a side-by-side comparison.
Acrylic Versus Metal Dog Playpens
Metal playpens have a reputation for strength. Made from heavy-duty steel or iron, they resist bending and warping. These playpens are the top pick for owners of large, high-energy breeds. 
They're built to withstand rigorous use and are generally harder to knock over. On the downside, they can be heavy and difficult to move around. 
They can also appear less welcoming due to their cage-like design. And if you live in a humid area, rust can be an issue if not properly treated.
Acrylic playpens are the newcomers to the market. They bring the sturdiness of metal with the bonus of transparency. This clear view of your pet eases their isolation and adds an elegant touch to your home. 
Cleaning them is a breeze due to their nonporous nature, and they resist weathering well. But, they might not hold up to persistent chewers like metal playpens. And although lighter than metal, they're not the most portable option available.
Acrylic Versus Plastic Dog Playpens
Plastic playpens are famous for their lightweight design. They're usually made from hard plastic or PVC and are easy to move and store. They're often cheaper and have rounded edges to prevent injury. 
But they might not stand up well to chewers or large dogs. The plastic material can also become brittle over time, especially when exposed to sunlight regularly.
Acrylic dog playpens, in comparison, offer an upgrade to traditional plastic models. They share the lightness and ease of cleaning but outperform in durability and aesthetics. 
The clear panels offer superior visibility for both you and your pet. However, this comes at a cost. Acrylic playpens usually carry a higher price tag than plastic ones.
Acrylic Versus Fabric Dog Playpens
Fabric playpens, usually made from nylon or mesh, win the game in portability. They're ultra-light, foldable, and perfect for camping trips or visits to the park. 
But they're the least durable option. A keen chewer can quickly cause damage and be tricky to clean thoroughly.
On the other hand, acrylic playpens provide a balance between portability and durability. While not as lightweight as fabric playpens, they're sturdier and easier to clean. They also offer a unique aesthetic appeal with their transparent design.
Indoor and Outdoor Dog Playpens: The Difference
Location matters when it comes to dog playpens. Think about where it'll go. Indoor or outdoor dog playpen? This is a vital decision when selecting acrylic playpens. Let's discuss the specifics of both scenarios.
Acrylic Dog Playpens for Indoor Use
Acrylic playpens are a perfect match for your home's interior. Their clear, sleek look adds to the home vibe without disrupting your design flow. And here's a bonus: they double as a safe spot for your pup while you're busy.
Dogs love them because they can see their surroundings. It lessens their sense of isolation. And for the dog owners? They protect your floors from accidental messes, thanks to the non-absorbent material. But remember, an indoor dog playpen is pretty sizable. So consider your space before setting it up.
Acrylic Dog Playpens for Outdoor Use
But what about the outdoors? Acrylic playpens can handle that, too. They're a tough bunch, resistant to weather effects. It provides a secure outdoor play area for your dog.
The material is moisture-resistant, guarding against warp, rust, and rot. Your dog can enjoy the outdoor scenery safely. 
And cleaning? It's as easy as pie, especially after a muddy play session. Remember, though, prolonged exposure to sunlight can affect acrylic, so shade is its best friend.
Final Thoughts
Choosing the best dog playpen is vital in ensuring their safety, happiness, and overall well-being. From the start, we know the importance of considering size, material, and location. 
And while there's no absolute best choice, as the needs of every dog and owner vary, we've learned how acrylic dog playpens often emerge as a top contender in this selection process. Elegant and durable, indoor or outdoor, an acrylic dog playpen seamlessly fits into our homes and lives, providing a secure playground for our furry friends. 
For all dog lovers out there, remember that every choice we make, big or small, contributes to the lasting bond between our dogs and us. So, let's make those choices count. After all, they're not just pets; they're family.