Welcome to the enchanting world of dog cafes, where the delightful blend of canine companionship and the aromatic allure of coffee or tea creates an irresistible experience. These charming havens offer a warm and inviting ambiance, enticing patrons to unwind, engage with lovable canines, and revel in the sheer delight they bring. In this captivating piece, we embark on an expedition into the captivating realm of dog cafes, unearthing their intriguing origins, myriad advantages, and what sets them apart from conventional coffeehouses. Come, accompany us on this extraordinary odyssey, and unlock the boundless bliss unfurled by the phenomenon known as dog cafes!
Unleashing Joy: Exploring the Rise of Dog Cafes
Prepare to be enthralled by the global phenomenon of dog cafes, as they have skyrocketed in popularity across the world. Their remarkable ascent can be attributed to a multitude of factors that combine to create an unparalleled and captivating experience. Join us as we explore the diverse elements that contribute to the irresistible allure and enchanting charm of these canine-infused havens.
The Origins of Dog Cafes: From Asia to the World
Venturing on an extraordinary odyssey, the inception of dog cafes can be traced back to Asia, specifically Taiwan, and Japan, where their remarkable journey began. It was during the early 2000s that these nations witnessed the dawn of the very first dog cafes, offering solace and companionship to passionate dog lovers who longed for furry companions but were unable to have pets of their own. The concept swiftly permeated across borders, captivating the imagination and adoration of individuals worldwide, transcending cultural boundaries, and enthralling the hearts of both dog enthusiasts and connoisseurs of café culture.
The Magic of Canine Companionship
Indulge in the enchanting realm of dog cafes, where cherished moments with delightful canines unfold in a serene and soothing atmosphere. The profound impact of canine companionship on human well-being has been extensively studied, with compelling evidence showcasing reduced stress levels, heightened happiness, and enhanced mental health. Within the cozy confines of a café, engaging with dogs orchestrates a harmonious symphony of delight, tranquility, and companionship, crafting an unparalleled experience to be treasured.
Unforgettable Experiences: Fun and Relaxation Combined
As you step foot into a dog cafe, an enchanting world of joy and amusement unfolds before you. These extraordinary establishments showcase a delightful array of canine breeds, each exuding its own unique personality and captivating charm. Visitors are invited to revel in playful interactions, indulge in moments of petting, engage in spirited activities such as dog training sessions, or even partake in the serenity of dog yoga. The harmonious blend of savoring a delectable beverage amidst the presence of furry companions creates indelible memories that gently warm the heart and stand the test of time.
Dog Cafes as Social Hubs: Connecting Dog Lovers
Dog cafes serve as cherished hubs for dog enthusiasts, forging a close-knit community of kindred spirits. Whether you embody an unwavering devotion to our canine companions or simply revel in the joy of their company, these welcoming havens provide an inviting space to connect with fellow enthusiasts who share your ardor. With open arms, dog cafes extend their embrace beyond mere leisure, organizing a plethora of engaging events such as dog adoption drives and enlightening workshops. In doing so, they cultivate a profound sense of social responsibility and breed awareness, fostering a harmonious coexistence between humans and their furry friends.
A Haven for Dog Adoption: Finding Forever Home
s
A remarkable facet of dog cafes lies in their collaboration with local animal shelters and rescue organizations, transforming them into extraordinary havens for dog adoptions. Within these heartwarming spaces, visitors have the opportunity to forge lasting connections with four-legged companions and embark on a journey of compassion. Falling head over heels for a particular dog opens the door to a transformative experience, as patrons can navigate the adoption process, granting these beloved canines the chance to find their forever homes. This profound dimension elevates the dog cafe experience, infusing it with a sense of purpose, knowing that while relishing moments at the café, you can also make a tangible and life-changing difference in the lives of these cherished dogs.
Health and Well-being Benefits: The Therapeutic Effect
The therapeutic influence of spending time with dogs has been extensively documented, and dog cafes serve as sanctuaries for the demands of everyday life. Within these havens, customers can find solace, unwind, and revel in the captivating presence of these endearing four-legged companions. The boundless affection and unwavering devotion offered by dogs have the power to uplift spirits, alleviate anxiety, and foster an overall sense of well-being. At a dog cafe, the simple act of being in the company of these furry friends becomes a transformative experience, enriching lives and nurturing the soul.
Dog Cafes Menu Design: Delighting Both Canines and Coffee Lovers
In the realm of dog cafes, menu design takes center stage, crafting an immersive experience for human visitors and their beloved furry companions alike. Beyond mere listings of tantalizing treats and beverages, the menu becomes a reflection of the cafe's ambiance and theme, encapsulating its essence.
Dog cafe menu design transcends the ordinary, intertwining creativity and aesthetics to heighten the visual allure. Whether it be enchanting menu boards, captivating cards, or delightful illustrations of dogs and coffee, each element harmoniously weaves together to captivate the senses. From vibrant chalkboards to rustic wooden signs and sleek digital displays, every detail contributes to the ambiance, arresting the attention and curiosity of all who venture inside.
Moreover, dog cafes recognize the significance of clear and informative menu descriptions. They go the extra mile, providing comprehensive information about ingredients, allergens, and portion sizes, empowering customers to make well-informed choices for themselves and their cherished companions. This meticulous attention to detail in menu design underscores the unwavering dedication of dog cafes to curating a seamless and delightful experience for all who partake.
Read Also: Black Panther Pitbull
Dog Cafes Around the World: Exploring Notable Examples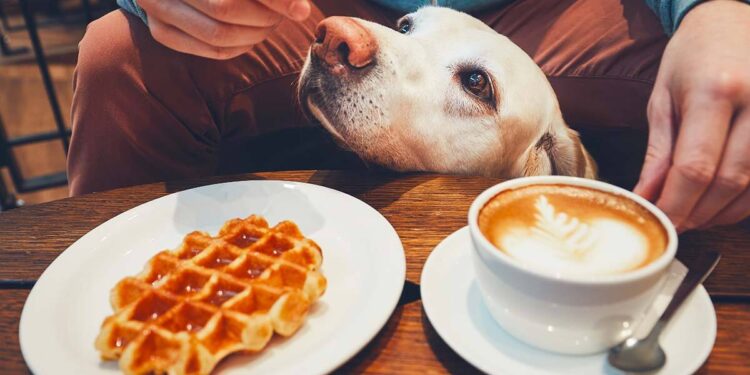 Embark on a virtual voyage as we explore renowned dog cafes that have captured the hearts of people around the world. From different corners of the globe, these extraordinary establishments beckon with their distinct offerings and captivating features. Join us on this enchanting tour as we unveil the wonders of these beloved dog cafes, showcasing their unique charms and unforgettable experiences:
Dog Cafe Location Unique Feature
Pawsome Pals – London, United Kingdom – Dog-friendly outdoor seating area
Bark & Brew – New York City, USA – Craft beers inspired by different dog breeds
Canine Haven – Sydney, Australia – Exclusive dog training classes and workshops
Le Café Canin – Paris, France – Gourmet dog treats made in-house
Wagging Tails – Tokyo, Japan – Caters to specific dog breeds, including rare ones
Conclusion
In conclusion, dog cafes have emerged as a worldwide sensation, offering a distinctive and enchanting experience that seamlessly combines the pleasures of canine companionship with the cozy ambiance of a café. From their origins in Asia to their widespread acclaim across the globe, these establishments have captured the hearts of both dog enthusiasts and café aficionados.
With their therapeutic advantages, opportunities for social connections, and even avenues for dog adoption, dog cafes have established themselves as sanctuaries where individuals can discover serenity, joy, and a profound sense of purpose. Whether it involves reveling in playful interactions with endearing dogs, relishing a cup of coffee in their delightful presence, or forging connections with like-minded souls in a warm and inclusive community, dog cafes have genuinely unleashed a realm brimming with delight and enchantment.