The Golden British Shorthair is a popular cat breed known for its warm personality, luxurious golden fur, and round face. These cats have a distinctive appearance and are often described as teddy bears on their legs. Their affectionate and easy-going nature makes them an ideal pet for families, as well as individuals looking for a loyal companion.
Golden British Shorthair Origins & History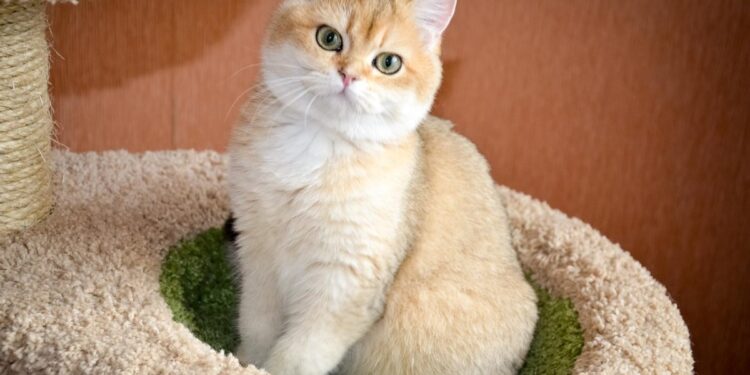 The Golden British Shorthair, also known as the British Golden Shorthair, is a breed that has its origins in Britain. It is believed that the breed was created by crossbreeding British Shorthairs with other breeds, such as the Siamese, Persian, and Abyssinian. This crossbreeding resulted in a cat with a distinctive appearance and a well-rounded personality.
The British Shorthair has a long history as a domesticated feline and is one of the oldest cat breeds in the world. In the past, they were kept as working cats, helping to control the mouse and rat populations on farms. However, as their popularity grew, they became more companion animals, and their role changed to one of loving pets.
The Golden British Shorthair is a relatively new breed and was first recognized in the 1980s. Since then, their popularity has grown rapidly, and they are now a well-known and well-loved breed. They are particularly popular in the United States, where their golden fur and teddy bear-like appearance has made them a favorite among cat lovers.
How much is a golden British Shorthair?
The cost of a Golden British Shorthair can vary depending on several factors, such as where you purchase the cat, the cat's age, and the breeder's reputation. On average, a Golden British Shorthair kitten can cost anywhere from $700 to $1500. However, the cost can be much higher for purebred kittens with a strong lineage and good bloodlines.
It's important to remember that the initial cost of a Golden British Shorthair is just the beginning. There will be ongoing expenses, such as food, litter, toys, and veterinary care. Before purchasing a Golden British Shorthair, it's important to consider the long-term costs and make sure you are financially prepared to care for your new furry friend.
Read Also: 5 Top Rare Cat Breeds
What is the personality of a golden British Shorthair?
The Golden British Shorthair is known for its warm, affectionate personality and gentle nature. These cats are typically very social and enjoy being around people, making them an ideal choice for families and individuals who enjoy the company of their pets. They are also very adaptable, which means they can thrive in a variety of environments, from bustling cities to quiet country homes.
Golden British Shorthairs are generally easy-going and low-maintenance, which makes them a great choice for busy pet owners. They are also very intelligent, which means they can be trained to perform a variety of tricks and can be taught to use a scratching post and litter box with ease. These cats are also playful, which means they love to play with toys and engage in interactive activities with their owners.
In terms of their affectionate nature, Golden British Shorthairs are known for their love of cuddling and snuggling. They are often described as "lap cats" and enjoy spending time with their owners, whether that's sitting on their lap, following them around the house, or simply being close by. If you're looking for a cat that will bring joy, happiness, and unconditional love into your life, the Golden British Shorthair is definitely worth considering.
Read Suggestion: Soybean Meal For Horses