Parti Yorkies, with their distinctive coat colors and charming personalities, has captured the hearts of dog lovers worldwide. In this article, we will delve into the fascinating world of Parti Yorkies, exploring their characteristics, care requirements, training and socialization needs, suitability as a family pet, their potential in the show ring, and the considerations for finding a Parti Yorkie through adoption or from reputable breeders.
The History of Parti Yorkie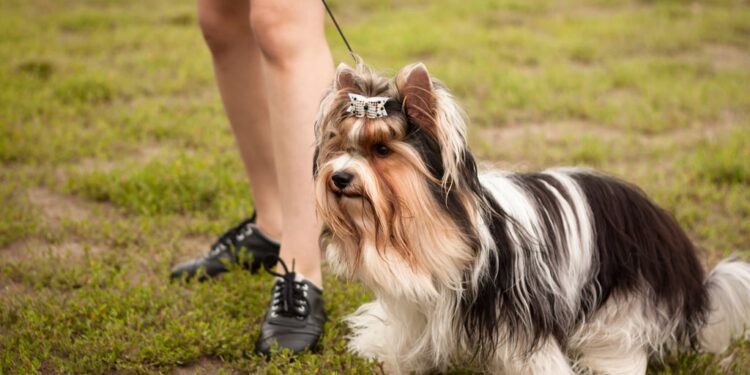 The history of Parti Yorkies is closely intertwined with that of the Yorkshire Terrier breed. Originating in Yorkshire, England, these adorable canines were initially bred for practical purposes in the 19th century. While the traditional Yorkshire Terrier sported a black and tan coat, a fascinating variation with white patches emerged, giving rise to the Parti Yorkie. Although not initially recognized by breed standards, the Parti Yorkie's unique appearance has captivated dog lovers worldwide.
Characteristics of Parti Yorkies
Parti Yorkies boasts a striking coat color pattern that sets them apart from traditional Yorkshire Terriers. Their coat features a combination of two or more colors, creating a visually captivating appearance. These adorable companions often exhibit markings such as patches, spots, or a predominantly white coat with splashes of color. Recognizing purebred Parti Yorkies is crucial, as they possess specific traits that distinguish them from other color variations.
Caring for Your Parti Yorkie
Nutrition and Diet
Maintaining a nutritious diet is essential for the overall health and well-being of your Parti Yorkie. Opt for high-quality dog food formulated to meet their specific dietary requirements. Provide a balanced mix of proteins, carbohydrates, and healthy fats, ensuring portion control to prevent obesity. Consult with your veterinarian to determine the optimal diet plan for your furry friend.
Grooming and Coat Care
Parti Yorkies have a luxurious, silky coat that requires regular grooming to keep it looking its best. Establish a grooming routine that includes gentle brushing to prevent matting and tangling. Special attention should be given to protecting their coat from dirt and debris. Regular bathing, drying, and periodic trimming of the hair around the eyes and paws will help maintain their neat appearance.
Exercise and Activity Needs
While Parti Yorkies are small in size, they have ample energy levels that require appropriate outlets. Engage them in daily exercise routines to keep them physically and mentally stimulated. Take them for walks, engage in interactive play sessions, and provide them with toys that challenge their intelligence. Be mindful of their size and avoid excessive strenuous activities.
Health and Wellness
Parti Yorkies, like any other breed, are susceptible to certain health issues. Regular veterinary check-ups, vaccinations, and preventive measures are crucial to their well-being. Common health concerns may include dental problems, patellar luxation, and eye conditions. Stay vigilant for signs of illness and consult your vet promptly for early diagnosis and treatment.
Training and Socialization
Basic Obedience Training
Early training is essential for Parti Yorkies to develop good manners and obedience. Use positive reinforcement techniques to teach them commands and reward them for desired behaviors. Focus on housebreaking, crate training, and leash manners. Consistency and patience are key to their successful training.
Behavior and Social Skills
Parti Yorkies thrive on social interaction and enjoy being part of the family. Expose them to various environments, people, and animals to ensure proper socialization from an early age. Address any potential behavior issues, such as separation anxiety or excessive barking, with positive reinforcement and professional guidance if needed.
Parti Yorkie as a Family
Parti Yorkies make excellent family pets due to their loving and loyal nature. They form strong bonds with their human family members, including children. However, supervision and teaching children to handle small dogs gently and respectfully are vital. Parti Yorkies can adapt well to apartment living and offer companionship to individuals and families alike.
Finding a Parti Yorkie: Adoption and Breeder Considerations
Responsible Breeders
When considering a Parti Yorkie, it is essential to find a reputable breeder who prioritizes the health and well-being of their dogs. Conduct thorough research, visit the breeder's facilities, and ask for health clearances and certifications. Reputable breeders will be happy to answer your questions and provide references from satisfied customers.
Adoption and Rescue Options
Adopting a Parti Yorkie from a rescue or shelter offers a rewarding experience and provides a loving home for a deserving dog. Research local rescue organizations and inquire about available Parti Yorkies. Adoption processes may vary, but they often involve an application, home visit, and adoption fee. Consider giving a second chance to a Parti Yorkie in need.
Conclusion
Parti Yorkies embody a blend of uniqueness, charm, and playful companionship. Their distinctive coat patterns, coupled with their loving temperament, make them captivating pets for families and individuals alike. By understanding their characteristics, providing proper care, training, and socialization, and making informed decisions when finding a Parti Yorkie, you can experience the joy and fulfillment of welcoming these delightful dogs into your life.
FAQs
What is a Parti Yorkie?
A Parti Yorkie, short for particolored Yorkshire Terrier, is a variation of the Yorkshire Terrier breed known for its distinctive coat pattern. Unlike the traditional Yorkie coat, which is predominantly blue and tan, Parti Yorkies display two or more colors in their coat, often with white as the primary base color and patches or spots of other colors.
What's The Difference Between Parti Yorkie And Biewer?
While both Parti Yorkies and Biewer Terriers have a similar coloration pattern, they are considered separate breeds. Biewer Terriers originated from Parti Yorkie breeding lines but were selectively bred for specific traits. The Biewer Terrier has a different standard and is recognized as a separate breed by some kennel clubs.
At What Age Is A Parti Yorkie Full-Grown?
Parti Yorkies typically reach their full-grown size by around 1 year of age. However, their development and growth rates can vary. It's important to note that small dog breeds like Parti Yorkies may continue to fill out and mature in terms of muscle tone and body shape until around 18 months of age.
Do Parti Yorkies Change Color?
Parti Yorkies may experience changes in their coat color as they mature. Some Parti Yorkie puppies are born with a predominantly white coat and gradually develop their characteristic color patches as they grow. The intensity and distribution of their colors can vary, and their coat may continue to evolve throughout their life.
What Texture Is Parti Yorkie'S Hair?
Parti Yorkie hair is typically silky, fine, and straight. Their coat should have a glossy sheen and be of medium length. Regular grooming, including brushing and occasional trimming, helps maintain their coat's texture and prevents matting.
Is Parti Yorkies Healthy?
Parti Yorkies, like all dog breeds, can be prone to certain health issues. Some common concerns include dental problems, patellar luxation, eye conditions, and allergies. Responsible breeders prioritize the health of their breeding dogs and perform relevant health screenings to minimize the risk of genetic conditions. Regular veterinary check-ups, a balanced diet, exercise, and proper grooming contribute to their overall well-being.
What Can Parti Yorkies Eat?
Parti Yorkies can thrive on high-quality commercial dog food that is formulated for their size, age, and activity level. Look for dog food brands that contain wholesome ingredients, including animal proteins, whole grains, and essential nutrients. It's important to consult with your veterinarian to determine the appropriate diet and feeding schedule for your Parti Yorkie.
How Much Should A Parti Yorkie Eat?
The amount of food a Parti Yorkie should eat depends on various factors, including age, weight, metabolism, and activity level. Typically, small dog breeds like Parti Yorkies require around ¼ to ½ cups of high-quality dog food per day, divided into two meals. However, it's essential to consult with your veterinarian to determine the precise portion size based on your dog's individual needs.
How Much Does A Parti Yorkie Cost?
The average price for a full-grown dog is between $200 to $250.
What Is The Lifespan Of A Parti Yorkie?
Parti Yorkies, like other Yorkshire Terrier variations, have an average lifespan of 12 to 15 years. With proper care, a nutritious diet, regular exercise, and regular veterinary check-ups, Parti Yorkies can.
Read more about Some mixed breeds