Diarrhea is a common issue for cats, and various underlying issues can cause it. As pet owners, it's important to recognize the signs and symptoms of cat diarrhea so that appropriate action can be taken. 
What is Diarrhea?
Diarrhea is an increase in fecal matter frequency, volume, and liquidity. It's often caused by an infection or inflammation within the gastrointestinal tract, but other factors, such as dietary changes or allergic reactions, can also lead to diarrhea in cats. 
Signs and Symptoms of Cat Diarrhea
The most obvious sign of cat diarrhea is fecal material that is more frequent, liquid, or voluminous than usual. Other signs may include straining during defecation, blood in the stool, weight loss, lethargy, vomiting, or an overall decrease in appetite. In severe cases, dehydration may occur due to excessive fluid loss from diarrhea. 
Causes of Cat Diarrhea
The most common cause of cat diarrhea is a dietary change; cats are creatures of habit, and sudden changes to their diet can cause digestive upset. Parasites such as worms or protozoans are another common cause of diarrhea in cats; these parasites interfere with digestion and absorption of nutrients, leading to loose stools. Bacterial infections are also a potential cause; typically, these infections occur when the cat's immune system has been weakened by stress or illness. Finally, allergic reactions to food or environmental allergens may also lead to diarrhea in cats. 
How Is Cat Diarrhea Treated?
Treatment for cat diarrhea will depend on its underlying cause; if parasites are the culprit, medication may be prescribed to clear them up. If dietary changes are the root cause, then it's important to slowly transition your cat back onto their regular food over several days while monitoring their stool output for signs of improvement. If a bacterial infection is suspected, your veterinarian may prescribe antibiotics. Plenty of fresh water is important to ensure your cat remains hydrated during treatment. 
When understanding and treating cat diarrhea, knowing the potential causes is important. Stress, for example, can weaken the immune system and make cats more prone to digestive issues. If your cat is experiencing stress due to changes in their environment or lifestyle, it's important to reduce their stress levels as soon as possible. 
In addition, it's important to pay close attention to what your cat is eating; low-quality ingredients or foods that contain additives can cause digestive upset in cats. If you're concerned about your cat's food quality, speak with your veterinarian about alternative options that may be better suited for them. 
Finally, regular checkups with your veterinarian are essential for maintaining your cat's health. During these checkups, your vet can advise you on parasite-prevention medications and other measures to help reduce the risk of diarrhea or other digestive issues in cats. 
Recognizing cat diarrhea's signs and symptoms is the first step in providing effective treatment and prevention. Understanding what causes diarrhea in cats and taking appropriate steps to address it can ensure our beloved pets stay healthy and happy for years.
Prevention Tips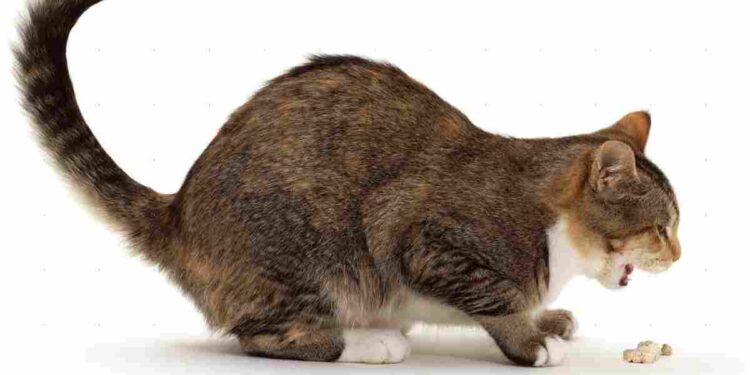 The best way to prevent cat diarrhea is through a consistent diet containing high-quality ingredients your cat enjoys eating. It's also important to avoid sudden changes to their diet; if you must make dietary adjustments, then do so gradually over several weeks rather than all at once. Additionally, regular parasite prevention medications should be given as your veterinarian recommends; this will help prevent parasites from causing digestive upset in your cat. 
Conclusion
Cat diarrhea is common with various underlying causes, from dietary changes to bacterial infections. As pet owners, it's important to recognize the signs and symptoms to take appropriate action for treatment and prevention. However, if symptoms persist despite treatment, it's best to consult your veterinarian for further advice on what steps should be taken next.