Litter tracking is one of the most annoying and frustrating problems that cat owners deal with daily. Those tiny grains of litter end up all over your floors, carpets, and furniture, making your home look messy. 
As a cat owner, you likely find yourself constantly sweeping and vacuuming up litter from places it should not be. This never-ending chore can be taxing. Read on to find out how you can avoid this problem, and keep your house clean from the possible mess.
Choosing the Right Litter Box
Using the proper litter box is one of the most important factors in preventing litter tracking. Many cat owners simply use whatever basic litter box they can find without considering size, type, or design. However, the size of your cat's litter box matters more than you think. A box that is too small for your cat will mean litter gets kicked over the sides easily. Look for a litter box that is roomy enough for your pet cat. A top-entry litter box is roomy and allows your cat to enter through a hole in the top. These boxes also minimize litter tracking, which is very convenient.
Using the Right Type of Litter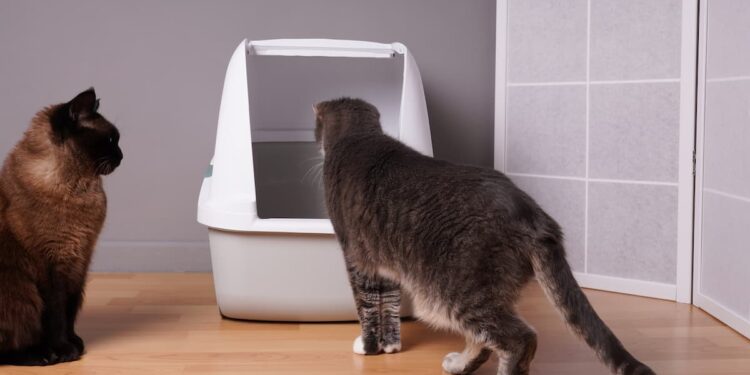 The texture and material of your cat's litter also affect how much of it is strewn around your home. Clumping clay litters are notorious for sticking to paws and being slung out of the box. Natural litters like pine tend to be lighter and less likely to stick. You can look for litter that minimizes tracking. Lightweight, non-clumping options like World's Best Cat Litter have larger granules that don't stick to paws. 
Silica gel litters are also great low-tracking options. The granules are lighter and don't get lodged between paw pads. Just be aware natural litter may not clump as well. Litters that produce a lot of dust when kicked around will also lead to more tracking. A dust-free formula will keep particles from getting caught in paws. Also, opt for unscented litter, as fragrances increase dust.
Grooming Your Cat
Believe it or not, your cat's hair length and fur condition can also contribute to litter tracking. Long-haired cats tend to get more litter stuck on the fur between their paws. Regular grooming and fur trimming can help minimize what gets dragged out of the box. Keep nails trimmed nice and short so there's less surface area to trap litter grains between toes. File down any sharp points too. 
Use an undercoat rake or de-shedding tool to remove any loose hair so it doesn't collect litter when your cat uses the box. Brush frequently. Bathing your cat regularly will also minimize how much dust and dander is in their fur to attract litter particles. 
Training Your Cat
You can also train your cat to be tidier in the litter box and minimize tracking. Teach your cat to wipe its paws on a small mat or rug after exiting the litter box. Toss treats into a litter box to encourage your cat to enter through the top opening rather than the front. Gently tap the back feet of your cat just before they exit the litter box to shake off any clinging litter from their paws. Use a clicker to mark and reward when your cat keeps all litter inside the box. 
Using a Litter Box Enclosure
Unless your cat's litter box already has one, using an actual litter box enclosure may be the best solution for cats that really tend to fling litter all over the place. Enclosures made of wood, metal, or high-quality plastic will best contain litter scatter and spray. Ensure it assembles sturdily. Measure your cat and litter box before purchasing an enclosure to ensure everything fits comfortably. Adding extra height helps with smelly air inside. Some enclosures have a swinging door, while others have a slit entry. Consider your cat's mobility when choosing which type of entry. Place a mat under the litter box inside the enclosure to contain any litter that still escapes the box. Look for an enclosure with panels or sections that easily come apart for cleaning inside and out. Good airflow is important too.
Conclusion
Litter tracking can be significantly reduced, if not eliminated, by making simple changes to your cat's litter box setup and routine. With a few adjustments, you can minimize litter tracking and keep your floors clean and litter-free.