Dogs are known for being loyal and friendly companions to their human owners. However, in multi-dog households, they can have disagreements with each other which can escalate into serious fights, posing a threat to their well-being and that of others around them. 
Understanding the dynamics of dog fights, being able to differentiate between rough play and a serious altercation, knowing how to intervene safely, and implementing preventive measures are crucial aspects of responsible dog care for dog breeders and dog owners all around. 
Let's delve into these aspects to provide a well-rounded understanding of managing canine conflicts.
Discerning Rough Play From Real Fights
Dogs have a playful nature, often engaging in rough play which can be mistaken for fighting. Distinguishing between the two is essential for ensuring the safety and well-being of your furry companions. Rough play often involves mutual chasing, play bows, and relaxed body language, despite the seemingly aggressive behavior like growling, biting, and tackling. 
Conversely, dog fights are characterized by stiff body language, deep growls, snarling, snapping, and biting with intent to harm. Observing the body language and vocalizations of the dogs involved can provide a clear indication of whether they are simply playing or engaged in a conflict.
Breaking Up a Dog Fight Safely
Dog fights are a terrifying ordeal not only for the dogs involved but also for the owners. Knowing how to intervene correctly can significantly reduce the risk of injury to all parties. Remember: Intervening in a dog fight can be dangerous and should be done with utmost caution. 
Step One: Assess the Situation
Before diving in to break up a fight, it's crucial to assess the situation from a safe distance quickly. Determine the intensity of the fight and identify any potential risks. Understanding the situation's dynamics will help you decide the best course of action.
Step Two: Remain Calm
Your emotional state can influence the dogs' behavior. Stay calm and composed to prevent escalating the situation further. Avoid shouting or exhibiting frantic behavior as it might intensify the fight. 
Step Three: Distract and Divert
Attempt to distract the dogs by making a loud noise, such as clapping, banging pots together, or using an air horn. Alternatively, you can try to divert their attention by throwing water over them or tossing a blanket over their heads to momentarily disorient them.
Step Four: Utilize a Barrier
If a loud noise or diversion doesn't work, try to insert a barrier between the dogs. This could be a large board, a baby gate, or any other substantial object that can separate the feuding dogs without putting you in harm's way.
Step Five: The Wheelbarrow Method
As a last resort, if you have another person to help, each person can approach a dog from behind, grabbing the back legs and lifting them off the ground, akin to holding a wheelbarrow. This method disengages the dogs and allows for control while keeping a safe distance from the dogs' heads. It's crucial that this step is done simultaneously to both dogs to prevent further aggression.
Step Six: Separate and Secure
Once separated, lead the dogs to different secure areas to prevent a re-engagement. It's essential that they are completely separated and calmed down.
Step Seven: Check for Injuries
After securing the dogs, check them for injuries. First aid can be applied for less serious injuries, but if necessary, seek veterinary attention immediately. 
Preventing Dog Fights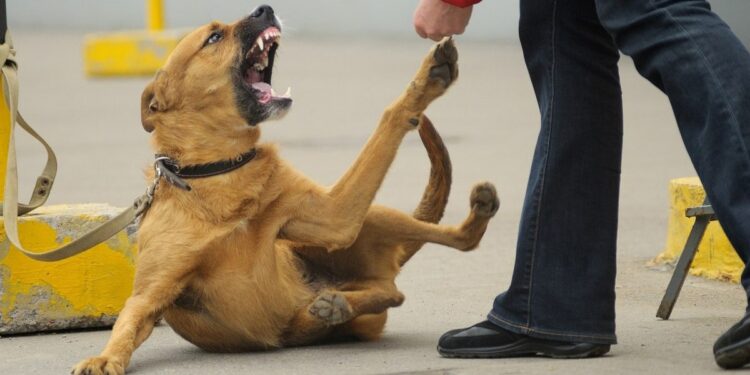 Preventing dog fights begins with understanding canine behavior and socialization. Ensuring that dogs are well-socialized from a young age can significantly reduce the likelihood of aggressive behavior. Training dogs to obey basic commands and to exhibit good behavior in the presence of other dogs is fundamental. 
Additionally, monitoring interactions, especially in new or highly stimulating environments, and removing any high-value resources like food or toys that could trigger a fight are proactive measures to prevent dog fights. Furthermore, consulting with a professional dog trainer or a behaviorist can provide personalized strategies for managing and preventing aggression in dogs.
Are Certain Breeds Predisposed to Fighting?
Certain breeds have been historically bred for tasks that require aggressive traits. For instance, guard dogs, hunting dogs, or fighting dogs were selected for their ability to show aggression towards threats, prey, or opponents respectively. However, it's imperative to understand that these traits do not render a dog automatically aggressive or prone to fighting; rather, they may possess a higher potential for such behaviors if not properly trained and socialized.
Training and socialization play pivotal roles in mitigating aggressive tendencies in dogs, regardless of breed. Proper training from a young age, positive reinforcement, and consistent socialization with other dogs and people can significantly reduce the likelihood of aggressive behavior and dog fights.
Conclusion
Dog fights can be stressful and dangerous events for both dogs and their owners. Being educated and prepared to handle such situations is a crucial part of being a responsible dog owner. By understanding the nuances of dog behavior, dog owners can create a safer environment for their entire family.