Dog training is a vital aspect of responsible pet ownership, ensuring that our furry companions develop good manners and become well-adjusted members of society.
Based on information from the World Animal Foundation, having a dog as a pet requires dedication and time. Today, individuals are demonstrating a strong commitment to dog ownership by investing in various training approaches. Since 2018, approximately 57% of pet owners have opted for self-directed training methods.
On-site dog training, conducted in a controlled environment, provides an excellent platform for striking the perfect balance between playtime and learning. In this article, we will explore the benefits and techniques of on-site training sessions that incorporate both fun and education to nurture a happy and obedient canine companion.
The Power of Play-Based Learning
According to Dreamy Skies Dog Training, play-based learning has been demonstrated as an effective method that stimulates dogs both mentally and physically. As stated in a blog post on happydogtraining.info, this approach is considered the most successful form of dog training due to its alignment with the fundamental instincts of canines. Dogs enhance their natural hunting abilities through interactive play and roughhousing with fellow pups.
Incorporating play into on-site training sessions not only keeps dogs enthusiastic but also helps build a strong bond between the owner and their pet. Interactive games like fetch, hide-and-seek, and tug-of-war can be integrated into training exercises, making learning enjoyable and reinforcing positive behavior. 
Balancing playtime and learning ensures that dogs remain motivated and eager to participate in training, leading to better retention of commands and improved overall behavior.
Structured vs. Unstructured Play
While play is essential, maintaining a balance between structured and unstructured play during on-site training sessions is crucial. Structured play involves games with specific training objectives, such as teaching recall or impulse control. 
On the other hand, unstructured play allows dogs to socialize and interact freely with others, promoting good behavior in various social situations. Skilled trainers can seamlessly transition between structured training exercises and supervised playtime, creating a harmonious environment where dogs learn, play, and thrive.
Positive Reinforcement through Play
Incorporating positive reinforcement techniques during playtime can enhance the learning experience for dogs. Offering treats, praise, or toys as rewards for correctly following commands encourages dogs to repeat desired behaviors. 
During on-site dog training, trainers use play as an opportunity to reinforce learned commands and behaviors, making it a positive and rewarding experience for the dogs. This reinforcement strengthens the connection between play and learning, motivating dogs to actively participate in future training sessions.
On-site dog training capitalizes on the power of positive reinforcement during play by tailoring the training sessions to suit each dog's preferences and interests. Trainers observe the dogs closely and identify the most effective rewards, whether it's their favorite treat, an exciting toy, or simply heartfelt praise. 
This individualized approach strengthens the bond between the dog and the trainer, as the dog learns to trust and respect the person guiding them through the training process.
Read Also: Micro Bully
Keeping It Safe: Supervision and Socialization
As per a paper from The Ohio State University, the socialization phase in puppies starts around 3 weeks old and extends until they reach 12-14 weeks of age, with slight variations based on the breed. 
During this crucial period, a puppy's brain undergoes development, forming social skills and associations. Puppies that miss out on proper socialization during this time are more prone to experiencing behavioral issues throughout their lives.
On-site training sessions provide an ideal setting for supervised socialization. Proper supervision ensures that interactions between dogs remain safe and controlled. Trainers can carefully introduce dogs to new playmates, evaluating their behavior and intervening if necessary. 
Socialization during playtime aids in building a dog's confidence and helps them develop better social skills. Additionally, well-supervised play can prevent any negative experiences that might lead to fear or aggression in the future.
Read Also: Short Haired Border Collie
Balancing Play with Training Goals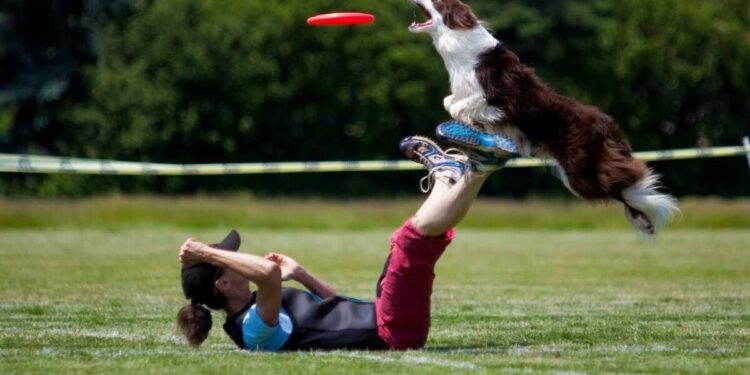 The key to successful on-site training sessions lies in finding the right balance between play and focusing on training goals. Trainers strategically design exercises that incorporate play elements while reinforcing specific commands and behaviors. 
By intertwining play and training, dogs remain engaged and motivated, making the learning process more effective and enjoyable. Strike a balance that allows dogs to have fun while steadily progressing toward achieving their training objectives.
The Lifelong Benefit: Play-Integrated Training
On-site dog training sessions that incorporate play have long-term benefits for dogs and their owners. By associating training with enjoyable activities, dogs form positive associations with learning. 
This makes them more receptive to further training throughout their lives. The strong bond formed during play-based training also leads to improved communication between dogs and their owners, creating a lasting and fulfilling relationship.
Final Word
On-site dog training sessions that integrate play provide a potent and efficient method for nurturing well-adjusted, content, and obedient canine companions. By tapping into dogs' inherent instincts through play-oriented learning, owners can strengthen the bond with their pets while achieving crucial training goals. 
Striking a harmonious balance between structured and unstructured play ensures socialization and skill development, encouraging a lifetime of positive behavioral patterns. Employing positive reinforcement during play further motivates dogs to actively engage in training, enriching the overall learning experience. 
Finally, embracing the concept of on-site play-integrated training empowers dog owners to establish a harmonious atmosphere where learning becomes a joyful journey of growth for both dogs and their human companions.
Read Also: Parti Yorkie